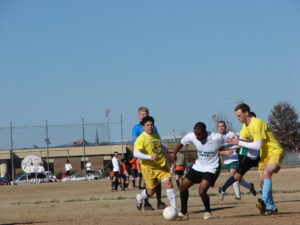 The 2008 weekend warrior (FIRST EVAR!!!) is in the books! Played on the crappiest fields in town, but we are just glad they had lines and that the weather was okayish. Overall, great turn out for our first ever 7-aside Adult soccer tournament in February. We hope to host many many more of these. Congrats to the winners for slogging it out in the cold all weekend. All I really remember from this one is that the Open Championship was a nail biter and came down to Golden Goal with about a minute left in the game! I was unfortunately on the losing end of that one, but we do love the intensity of that format and have kept it around ever since this weekend.
OPEN DIVISION CHAMPION – Law Dogs, Runner Up: Day Beach
REC DIVISION CHAMPION – Eagles, Runner Up: FC International

OVER-30 DIVISION CHAMPION – Turtles, Runner Up: Schurke
The full list of teams and brackets. Probably about 25% of these teams still play in some form today! Great to see and kind of the whole point of our tournaments.
OPEN: Day Beach, Flip Wo Squad, Digium, Law Dogs, Valley Futbol
REC: Eagles, En Fuego, FC Azzurri, FC International, Juventus, Injured Reserve
Over-30: Chivas, Schurke, Troublemakers, Turtles
Note 2019: I've been spending some time sorting out old files and pictures on 3-4 old hard drives I found recently. Digging back through my pics, we did actually have a few from this one. Mostly of my team, but definitely some familiar faces out there that still play in our adult soccer tournament! If anybody else has photos or anything they want to share from this tournament, we'd love to add it to this page. Just shoot us an email, make a comment, or drop us a line on facebook, instagram, or twitter.