We did it!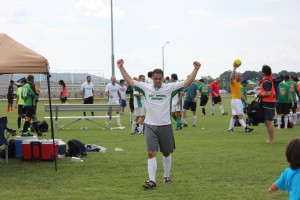 Congratulations to all of us. Together we braved the sweltering heat, lightning storms, torrential downpours,and flying tents. For us personally it was one of the best tournaments we can remember.
Good fields, good music, great refreshments (thanks to Straight to Ale), tons of goals (new record set for quickest 3 goals scored in a game: ~45 seconds), the shortest final (rec competitive – 10 minutes) and longest final (women's – 2 hours) ever, lots of time spent in the mist tent and plenty of great soccer was played. Hopefully everyone had as great of time as we did!
Thanks again to all our sponsors that make it happen!

Open – 10 guys and Mike pulled off a close one in the final against Rocket City Reserves. Having lost narrowly in the first game of the tournament against them, the guys (and Mike) were able to escape with the hardware.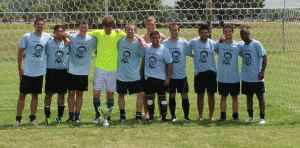 Rec Competitive – In probably the most evenly matched division across the board we've ever seen, Schurke Young Guns defeated a weary Day Beach 1-0. Lightning cut the game short, and with planes to catch and injuries mounting the old warriors decided 2nd place was good enough.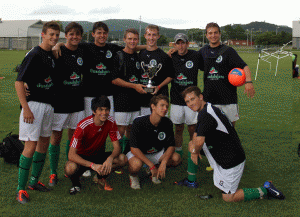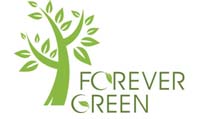 Womens – The lady gunners took home the championship, but the Storm Chasers made it interesting. After 23 minutes of play, lightning struck…and struck again…and struck again. An hour later, the ladies were able to resume play and slogged through a tough game.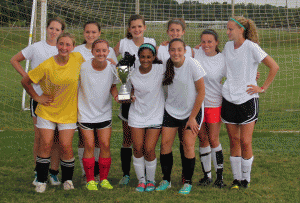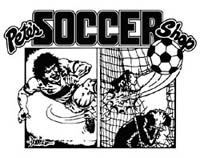 Rec Fun – Finishing mere seconds before an onslaught of lightning, Pelotas Azul was able to run away with the Rec Fun title defeating LoL who managed to advance out of a crowded Rec Fun division.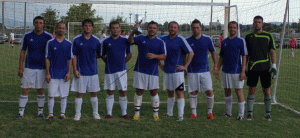 The Futility Award this year was given to the Green Aces, valiantly fighting through 3 games against superior competition while still wearing a smile! Way to go ladies!
The Golden Boot Winners are as follows. Congrats!
Open – Ryo Suzuki from Donald's Kids w/ 11 goals
Women – Amber Cryer from Storm Chasers w/ 8 goals
Rec Comp – Joe Beecroft from LFC w/ 9 goals
Rec Fun – Myles Harding from Pelotas Azul w/ 14 goals
We've got all the pictures over on our facebook page. Be sure and tag yourself and your teammates!